Video on YouTube
-Karakuri puppet collection-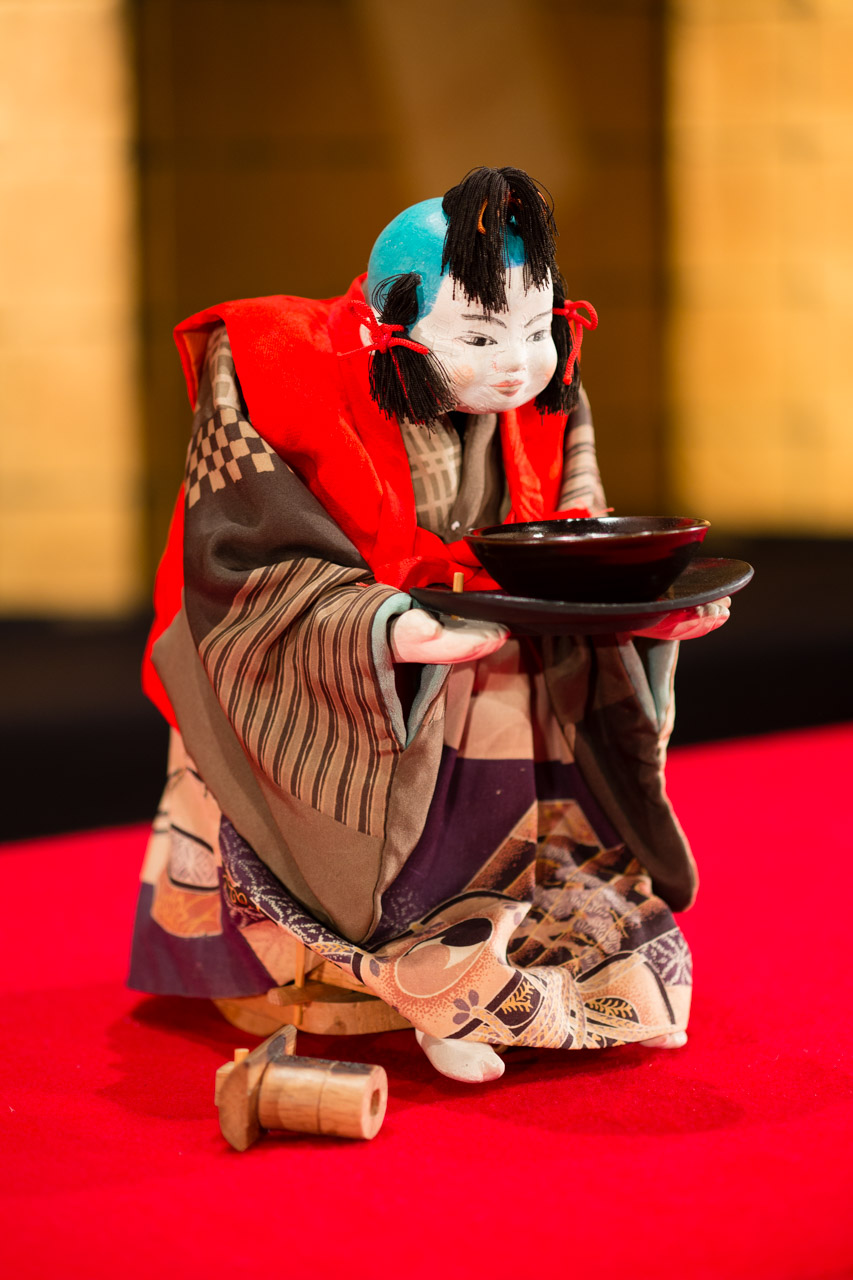 ■Karakuri puppet collection■

Karakuri Ningyo are puppets with sophisticates mechanism, that could be recognized as robots in old days.
Their history could be traced back for 300 years, and even today they are performed in traditional
festivals all over Japan.
We noticed this valuable tradition, and researched the art through field works in local venues.
The exhibits are qualified replicas; there are approximately 40 of them available.
Each of them will be exhibited any time, accompanied by performance and lecture be experts.
We have held many exhibitions, but this is the first time to show a video of this karakuri collection!

Karakuri puppet collection 
VOL.25 Shuten-dōji 酒吞童子(配信・8月28日~)

VOL.1 teacup karakuri puppet 茶運び人形 Link on YouTube
VOL.2 dangaeri karakuri puppet 段返り人形 Link on YouTube
VOL.3 syuusen karakuri puppet 鞦韆(しゅうせん)人形 Link on YouTube
VOL.4 hitatifuryu-mono dashi 日立風流物 山車 Link on YouTube
VOL.5 hitatifuryu-mono archer 日立風流物 弓を射る人形 Link on YouTube
VOL.6 men-gawari karakuri puppet 面変わり人形 Link on YouTube
VOL.7 zaifuri karakuri puppet 采振り人形 Link on YouTube
VOL.8 moji-kaki karakuri puppet 文字書き人形 Link on YouTube
VOL.9 handstand taiko-tataki karakuri puppet 逆立ち太鼓叩き人形 Link on YouTube
VOL.10 handstand kane-tataki karakuri puppet 逆立ち鉦叩き人形 Link on YouTube
VOL.11 aya-watari karakuri puppet 綾渡り人形 Link on YouTube
VOL.12 Horizontal bar karakuri puppet 鉄棒人形 Link on YouTube
VOL.13 sambasou karakuri puppet 三番叟人形 Link on YouTube
VOL.14 a priest changes into shrine 神主変じて社となる Link on YouTube
VOL.15 otsu matsuri-genjiyama 大津祭源氏山 Link on YouTube
VOL.16 otsu matsuri-ryuumontakiyama no koikarakuri 大津祭竜門瀧山の鯉からくり Link on YouTube
VOL.17 annaka-toro karakuri puppet 安中燈篭人形 Link on YouTube
VOL.18 chiran-suisya karakuri puppet 知覧水車からくり Link on YouTube
VOL.19 yame-toro karakuri puppet 八女燈籠人形 Link on YouTube
VOL.20 water karakuri 水からくり Link on YouTube
VOL.21 magic trick karakuri puppet 品玉人形 Link on YouTube
VOL.22 rokurokubi karakuri puppet ろくろ首 Link on YouTube
VOL.23 kabuki stage small model 歌舞伎舞台模型 Link on YouTube
VOL.24 yotsuya kaidan 四谷怪談 仏壇返し Link on YouTube


Foundation Modern Puppet Center-You Tube Channel-
【Contact】
Foundation Modern Puppet Center
 www.puppet.or.jp/e/
  message form